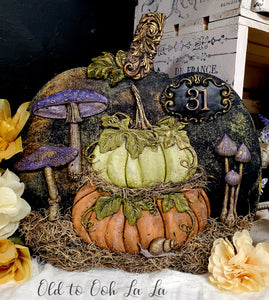 ***PLEASE READ ENTIRE LISTING***
*IF THIS IS YOUR FIRST CLASS WITH ME PLEASE SEND ME A FRIEND REQUEST ON MY PERSONAL FACEBOOK PAGE, VICTORIA KONHORST, SO I CAN INVITE YOU TO THE PRIVATE FACEBOOK CLASSROOM. I CANNOT INVITE YOU TO THE FACEBOOK PRIVATE CLASSROOM UNTIL WE ARE FACEBOOK FRIENDS 🙂*
 You will have lifetime access to this class. Or as long as Facebook is around 😄
We will be creating this elegant Fall/Halloween pumpkin sign. It's a challenging project with lots of wonderful techniques you'll be able to use over and over. Ill take you step by step through the entire process. You can build this on any surface you like. I will be working with hot glue but also giving alternate instructions if you want to work with clay. 
There will be a Supply List download in your email receipt. It is also in the Facebook classroom.
This class will be a blend of pre-recorded instruction and Lives. There are already 3 pre-recorded segments to get you started. I will start the Lives in 7-10 days so people have time to join. I will post Live times in the group. 
*******IMPORTANT*******
IF YOU'VE NOT TAKEN ONE OF MY CLASSES BEFORE PLEASE SEND ME A FRIEND REQUEST ON MY PERSONAL FACEBOOK PAGE, VICTORIA KONHORST, SO I CAN INVITE YOU TO THE PRIVATE FACEBOOK CLASSROOM